Legends Parallel zipped past 50% funded.
Don't miss out on the cool rewards.
Legends Parallel's Kickstarter campaign continues to march towards success. While the custom variant cover has been spoken for, so sorry, there are many other great rewards. You can be a character in issue #4. You'll meet a brutal end, but you'll have a copy in print as well as a digital version you can share with friends.
Check out the amazing cover for issue #4 done by Alexander Malyshev.
More below!
If your adult content needs are still not satiated, make sure to head over to Cyril Brown's Patreon page. You can get in on all his eye-popping graphics for pennies a day. You can also check out his Hybrid Zero comic as well as his collaboration with me, Jungle Grrl, for free just by clicking the links. Life doesn't get much better than that.
Still more below!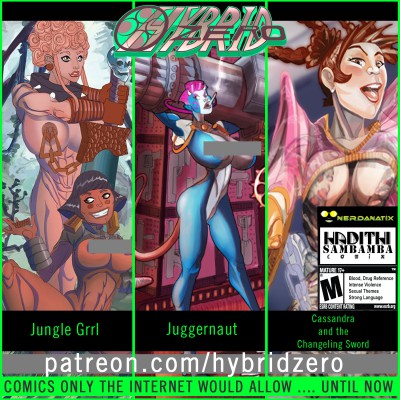 Last, but far from least, I recently had the opportunity to team up with, award-winning screenwriter, William Hayashi and, critically acclaimed artist David Novum Hutajulu. We worked together, guided by Chicago fundraising legend Joan Hollingsworth, to create a short comic designed to empower senior citizens, and entertain everyone.
Conversion will be released May 15, 2019.
Hey, I had to do one thing you could show your kids and parents.
I hope you're having an awesome day and look forward to bringing you more McSciFi.