Now You Can Join All the Fun!

The Legends Parallel Kickstarter campaign is growing. We added more cool rewards and a chance for you to appear on a variant cover for issue #4. The cool thing is that it will be printed so you'll get a hard copy as well. Who wouldn't want to show that around the office? Plus you can be the first person on your block to have digital copies of Issue #4 when it's done and see pages as it develops. And, BONUS!, there are stickers, coffee cups, and much more for you to enjoy.
Again, a big thanks to Tye Feimster and all the crew at Watch Dog Entertainment for the cool fan promo.
Keep reading below.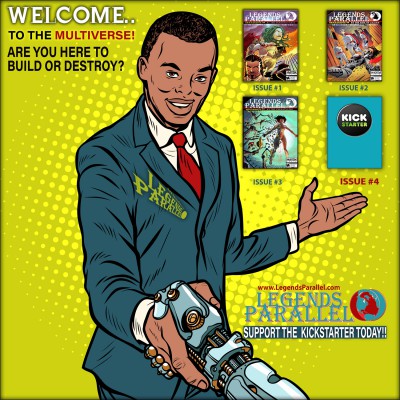 BUT WAIT! THERE'S MORE!
The legendary Cyril Brown has upped his game and is now offering unlimited access to his NSFW pinups, comics, and more. His Hybrid Zero comic has been an internet sensation for almost a decade and our recent collaboration, Jungle Grrl, busted into the top 5 at Nerdanatix immediately after its release. Now that he & I have partnered up there's going to be a ton of new content, comics, and more.
You can join the fun by signing up to support Cyril's Patreon page. Trust me, his stuff redefines "eye-popping."
That's all for now. Tell your friends to join the mailing list so they don't miss out on anything!