Howdy Ya'll!
I know how much it means to you to have the chance to touch my robes and wallow in my essence. Well, no I don't, actually, since that's kind of creepy. But I do know some of you prefer to meet me in person when the opportunity presents itself just like Carol did at the SCPL Local Lit Fest on November 2nd when she bought her copy of THE BRITTLE RIDERS and then sent me this note; "There's a cold beauty in the death you create." Yeah, I smiled.

Nevertheless, I have good news if you're in the near west suburbs of Chicago as I will be appearing at WindyCon in Lombard from November 15th through the 17th. 

This is one of the largest, indie oriented, sci-fi and fantasy shows in the country. Thousands of people converge on the Westin Hotel in Lombard to meet and greet some of the best creators the Midwest has to offer.

And me. They get to meet me too.

Anyway, I hope to see you there.

More below.




ICC Magazine is getting ready to drop its annual Holiday Gift Guide and you don't want to miss it. Chock full of awesome coo coo coolness it also contains the hottest of the hotness. Simply put, if you can't find something you need more than life itself within its luxurious pages, then you've got too much money, too few friends, and are destined to be sad for evermore.This gift guide, sadly, has a picture of me in it. But, fortuitously, also has multiple pictures of Little Alice and other amazing creators to take your mind off that blight.

Issue #8, features an interview with Trina Robins, the first woman to explore polygamy and a BDS&M lifestyle utilizing a pictographic format in a national magazine. Or, as others put it, she was the first woman to write for the Wonder Woman comic book series. Either way, ICC interviewed her and it's a great read.

More below.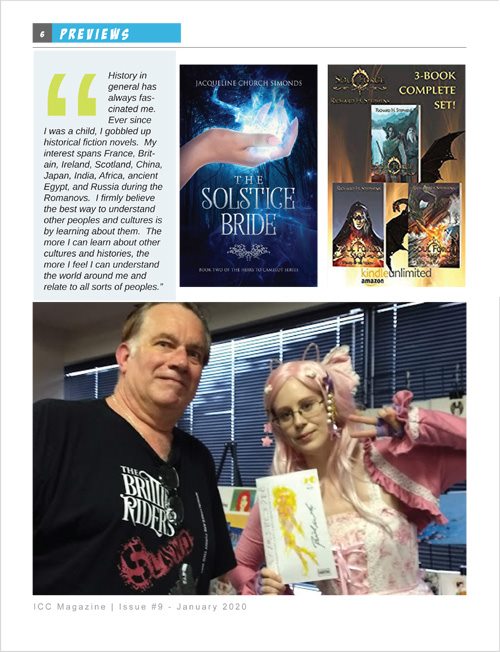 I have copies of almost everything I've written, minus a couple anthologies, sitting in my living room. If you would like to get something autographed for the holiday season, just respond to this email. I, certainly, have all my comics. Plus, and this is exciting, right now I'm the only human on the planet who has a copy of the Hybrid Zero 2-PAC featuring Jungle Grrl and Cassandra and the Changeling Sword. Unlike the manga sized version of Jungle Grrl that's out now, this is a full blown magazine and it's exactly the kind of thing that will get you offered sex by strangers just for having it near.

Yeah, it's that cool. Order it now!

All my other comics are currently crowding the Top 12 list released by Nerdanatix and I couldn't be happier.

Check out each of my titles below.

Svarozic – A woman trapped inside a man, a god trapped inside a human. Since they're all one person, she's got issues. This is a very TEEN FRIENDLY comic. I wrote it to give trans kids a superhero of their own. It's even got a Gypsy circus. Because every comic set in Russia needs a Gypsy circus.

Juggernaut – Set in the distant future, Juggernaut is the story of a human/alien fusion and her strange family. They live in an era where sexuality, in all its myriad forms, isn't taboo but violence is. This group of aristocratic soldiers, who just happen to be related, must face down their own petty, in the grand scheme of things, problems and stop a trans-dimensional creature before it destroys the universe. Or not. It really depends on their mood at the time. This is a magazine sized masterpiece that will impress all who see it.

Legends Parallel – This is the perfect comic series for those who think quantum physics isn't violent or sexy enough. Five earths and one woman wants to rule them all. This is the story of the man, his mom, and her lover who have to stop that from happening

.Jungle Grrl – In a distant future sex is encouraged, violence is frowned upon, and our hero, her bestie, and their dino clone, try to eke out a living in a sex park while figuring out the meaning of life. The existential poetry based on beer should be enough to make you grab this one. There is a limited amount of American Manga sized versions of this. Once they're gone, they're gone.

Ruh Roh Rangers – This is the R-Rated parody that'll ruin your childhood but make your day. Those four meddlesome kids are now four meddlesome adults. Scooby Dooby Don't! 

See you next week!