Welcome Those I Met at WindyCon!
Kim, she's my official girlfriend, and I had a blast at WindyCon. We met fun peeps, sold some books, got to hang with friends old and new, chatted up the Harp Twins who were funny and wonderful (no pics, sadly, since we were on our way to the car), and learned some valuable lessons when it comes to budgeting longer cons out of town. 

The other thing we learned is that there are fans who think that having sex with dino clones is cool. Do you know what we call those people? CUSTOMERS! Yep, we ran into some Hybrid Zero fans and were damn glad to meet them.

More about that below.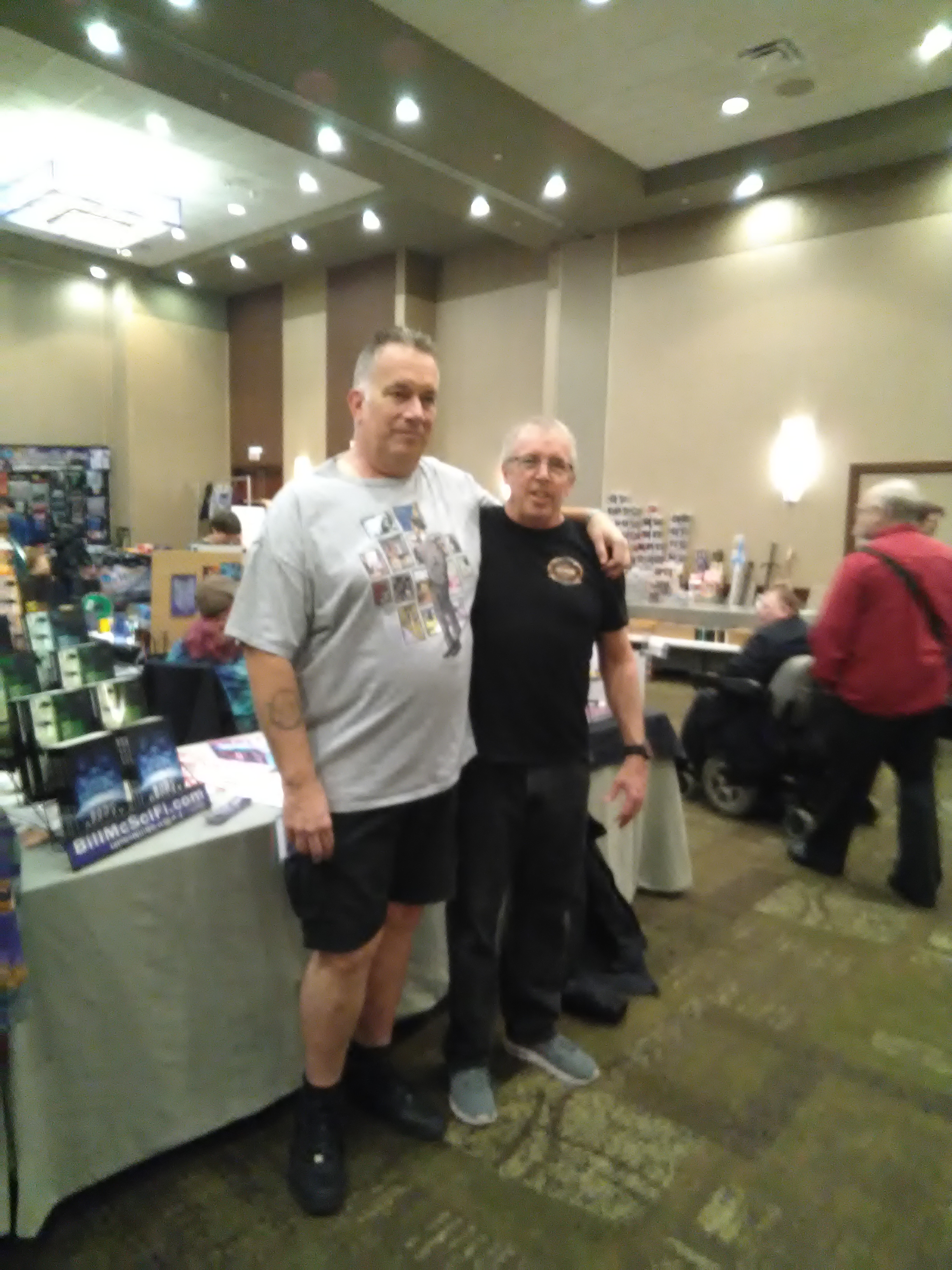 As you know (because you're smarter and better looking than anyone else), we recently ran a Hybrid Zero #FanArt Contest. While the contest generated a solid number of entries, there were only two we could use. The whimsical pixies, called lawyers who work for major comic companies, would have sued me into the stone age if I'd used their properties to advertise mine. 

That said, we still want to give a big McSciFi McShoutOut to Esma Kurbegović, the winner of Cyril Brown's Hybrid Zero #Fanart Contest. Esma won all the prizes and will be featured on a full page in issue #2 of Hybrid Zero: Juggernaut.

Our runner up was the lovely, and talented, Montreal Mack. He got all the prizes, except the gift card, and his entry will also be featured on a full page in issue #2 of Hybrid Zero: Juggernaut.

More below.




I know there are people, just like you, who would love to give some McSciFi as gifts this holiday season but, and this makes me the sadz, can't make it to the final con for 2019 at Chi Pop Culture Comic Con in St. Charles, Illinois the weekend after Thanksgiving.

Not to worry. All of the cool merch, including onesies for growing fans, can be ordered directly online at my online store, And, BONUS!, I have a living room full of boxes, containing books, that I'd love to empty. You can just reply to this email with your order and I'll let you know what the shipping is. And, yes, I will ship overseas, it just gets a tad pricey. There will be no charges until you approve the final order.

The Hybrid Zero 2-Pac, listed in the image, has nothing to do with Hip Hop and is, instead, two new comics. A magazine sized version of Jungle Grrl and the unreleased Cassandra and the Changeling Sword. You could, literally, be the only person to own this on your block.

Thus ensuring your cool-cred for all eternity.

More below.




Don't forget, you can still get your copy of ICC Magazine, or write me to pre-order Just a  Minor Malfunction, which features my story GEORGE, a/k/a Breasts in Space, a scandalous and satirical looks at modern Young Adult sci-fi, or get your early copy of THE STRANGE CASE OF DR. JEKYLL AND MR. HYDE which features the original tale by Robert Louis Stevenson plus thirteen reimaginings by amazing authors and me.

My entry, HANK & EDDY, gave honest people nightmares, so you know it's perfect to read to kids.

Just kidding, don't read my stuff to kids.

Thanks for following along and I'll see you next week.