Yesterday, after the imaginary marching bands and requisite – scantily clad – cheerleaders did their thing, Kankakee Fantasy Con opened. Not only did they open, they brought out their big guns right off. They wanted to make sure people knew they were serious and only the best of the best will be on their roster. 

Obviously, I was their first featured author.

Of course, they may be saving the best for last, in which case ….. I'd rather not dwell on that.

Either way, you should take some time out of your day to wander over. They have crafts, custom made wands for the Potter-philes among you, cosplayers, and more. Oh, and books. They have lots of books. Fantasy books, science fiction books, comic books, graphic novel books, and those are just what I'm offering. Insert LOL here.

There are others with more. And better.

The event is sponsored by the Kankakee Public Library and has consistently been one of the more diverse, and pleasant, cons I've attended. Just CLICK HERE to join the fun and check out some amazing creators, including Little Alice (pictured below). 

More below.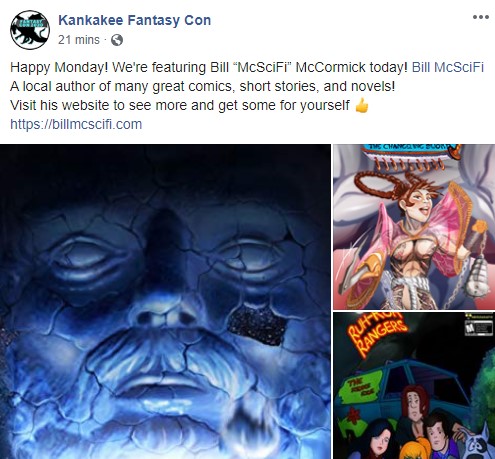 As you noted in the pic above, they are pointing people to my site so they can buy my stuff. The couple of good things to come out of this stupid pandemic are, (1); I've really thinned my friends and followers lists on social media, and (2), I've turned my online store into a well oiled machine. Books and comics ship next business day and shirts, mugs, and the rest ship within a week. 

The thinning of the herd has, kind of, bothered me. When I write for World News Center, or appear on The Big Wakeup Call, I have to have my i's dotted and my t's crossed. I have to have supporting, verifiable, links for every fact I spew. I do not have the luxury of just making shit up and hoping for the best. And, yet, week after week, someone I know, in some cases for many years, will pipe up about this or that conspiracy theory they found on You Tube or some such place and, when challenged, get violent about it. Since COVID-19 kills people I think having useful facts, as opposed to baseless rumors, is important.

But I guess that's just me.

If you want some of those tasty facts, just click on the World News Center link above. The site's festooned with them.

As to the store, suffice it to say this is one of the better ideas I've had. It's truly my happy spot in the middle of this mess. With everything set up through an online bank it couldn't be more secure if I tried. Plus people can contact me via the site and request custom clothing and gear; which I add and then they buy. It's been a win/win for everyone. Just CLICK HERE to check it out. 

Still more below.




That's a lot for one day. I will have updates on SPLICE next week, so you can start planning your summer reading. One fun note I would like to share, every single beta reader of SPLICE had the same question; "When's the next book coming?"

No matter what I could answer, which is not much without an option being picked up for a sequel, it still wouldn't be soon enough. Still, having people banging on your door wanting to buy your stuff isn't the worst problem a writer can have.

Not even in the top ten.

Until next week, stay safe, sane, and inside.